Zhangjiagang Pipe Bender
Zhangjiagang is located in the north of Suzhou City, Jiangsu Province, close to the Yangtze River and across the
Order hotline:
0512-58616755

Zhangjiagang is located in the north of Suzhou City, Jiangsu Province, close to the Yangtze River and across the river from Nantong City. It is one of the top 100 counties and cities in China and a production base for pipe bending machines.
Near Zhangjiagang Nanfeng Town, hundreds of pipe bender manufacturers have gathered. The famous Taiwan Hehe pipe bender and Taiwan Qiaosheng pipe bender have branch plants in Nanfeng Town, Zhangjiagang. These pipe bender manufacturers gather A comprehensive professional enterprise integrating product development, manufacturing and sales, focusing on the domestic industrial automation market, providing customers with a variety of CNC pipe bending machines, pipe shrinking machines, automatic pipe cutting machines and pipe bending machines. , Pipe bending machine supporting robot automatic loading and unloading and automatic production line, automatic pipe cutting machine automatic production line, welding positioner, chamfering machine, deburring machine, automatic punching and other professional equipment, while undertaking the design of complete sets of automation equipment and system integration , Manufacturing, installation and commissioning services.
Suzhou United Engine Robot Technology Co., Ltd. is located at No. 5 Zhenxing Road, High-tech Development Zone, Nanfeng Town, Zhangjiagang City. It is good at system integration and automation equipment research and development. It produces various automatic pipe benders and automatic pipe cutting machines. The processing equipment carries out system integration and on-line production to realize unmanned production operations.
Our philosophy is to make complex and repetitive operations simple and convenient, and use our professional manufacturing capabilities to achieve your success; and work together with you to build China's Industry 4.0 smart manufacturing factory!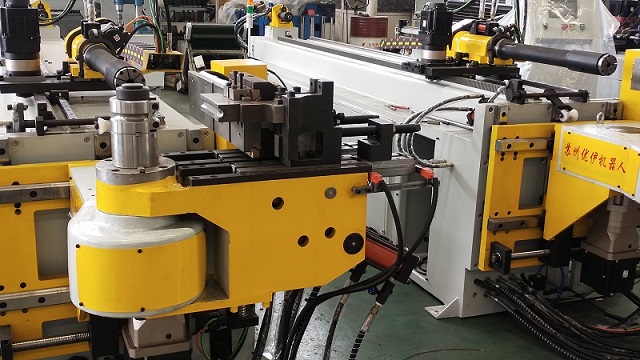 Suzhou Youyi Robot Technology Co., Ltd
Mobile:189-1569-8967
E-mail:kevin818@126.com
Adress:No.16 Zhenfeng Road, Nanfeng Town, Zhangjiagang City, Jiangsu Province
Related Products
延长数控弯管机工具的使用寿命弯曲
弯管机基本知识
大小型弯管机价格
Full-Auto Pipe Bender Product Center

Contact us

Consultation hotline:

0512-58616755

Mobile:189-1569-8967

E-mail:kevin818@126.com

Address:No.16 Zhenfeng Road, Nanfeng Town, Zhangjiagang City, Jiangsu Province