UE-DW38CNC-3A Auto Pipe Bender
产品说明:1 触摸屏显示,图控式操作易学易操作,可储存99组记忆。2 所有讯息说明均可自行选择中英文显示。
Order hotline:
0512-58616755













Features:
1. Touch screen display, graphic control operation, easy to learn and operate, 99 groups of memories can be stored.
2. The operation interface can be displayed in Chinese and English.
3. The guide rail and head of the pipe bender are treated with special technology.
4. The control unit of the pipe bender has the ability of automatic software redundancy, and provides the repair direction when an error message appears.
5. The compensation value can be set for the rebound coefficient of the pipe fittings.
6. The prepared processing procedures and processing data have a confidential function.
7. Graphical programming system: you can draw a picture on the screen to modify the processing program, which is convenient for programming the processing flow.
8. Rebound measurement: It can compare and measure the characteristics of different batches of pipes.
9. Jog debugging function: Jog mode is used for maintenance and mold trial production, which is convenient for observing the deformation process of the pipe during the pipe bending process.
10. Automatically draw mold diagrams: It is of obvious help to the research and development of new products.
11. Comprehensive detection: automatic diagnosis of faults in hydraulic, electrical, transmission system, servo motor, voltage, temperature, oil pressure and other parameters.
12. Password: Set a password key, working hours/quantity recording unit, which can be used for production management.
产品参数/PARAMETER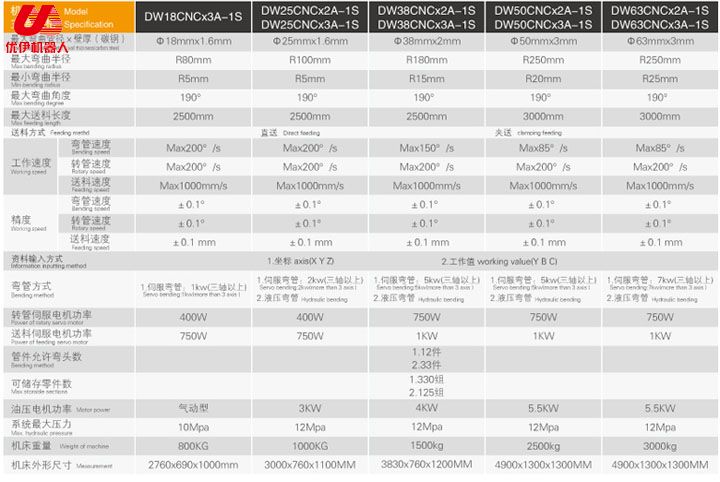 Suzhou Youyi Robot Technology Co., Ltd
Mobile:189-1569-8967
E-mail:kevin818@126.com
Adress:No.16 Zhenfeng Road, Nanfeng Town, Zhangjiagang City, Jiangsu Province
Related Products
UE-DW114CNC-3A Auto Pipe Bender
Sample after bending
UE-DW18CNC-3A Auto Pipe Bender
Full-Auto Pipe Bender Product Center

Contact us

Consultation hotline:

0512-58616755

Mobile:189-1569-8967

E-mail:kevin818@126.com

Address:No.16 Zhenfeng Road, Nanfeng Town, Zhangjiagang City, Jiangsu Province